[characters]
The friends, the enemies, and those who've been both, from the pages of
Lance Armstrong's War
THE HOME TEAM
Planet Lance is built around a few trusted satellites, each of whom lives by three vital rules: 1. Keep 2. Lance 3. Informed. Armstrong wants—some say needs—to handle the smallest details about bike technology, sponsorship, travel, finances, media strategy, cancer work, and team management. He receives dozens of emails and calls each day, and he fires back answers with spin, challenging, provoking, pushing, all of it adding up to a hot flow of information with which he obsessively tracks his rivals and prepares to fight his many battles.
Lance Armstrong
"It seems like he has about five lives, living them all at once."
The Latest: Armstrong's campaign for a seventh Tour victory with his new Discovery team has been rocky, to say the least. He struggled in March, abandoning his first race due to illness. In April's Tour de Georgia, he finished fifth. In early May, he returned to his European training home of Girona, Spain. Reports had him looking strong. Photo by Daniel Coyle.
Johan Bruyneel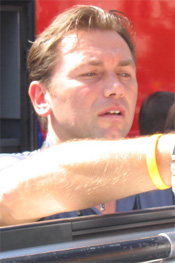 A canny ex-racer who directs the Discovery team, Bruyneel relates to Armstrong less as a father figure than as a big brother—the nice, deferential sort, who knows lots of nifty stuff (including five languages). He's Frank Hardy to Armstrong's more impetuous Joe.

Sheryl Crow
In October 2003, a couple months after Armstrong separated from his wife, the Grammy winner walked up to Armstrong at a charity function and asked, "Would you take me for a bike ride sometime?" She showed up at team training camp sporting a new nickname: Juanita Cuervo. Photo by Daniel Coyle
The Latest: Despite rumors or their breakup, Crow and Armstrong are still together; he trained part of the spring from her Hollywood home. She's got a new album coming out, and he's vowed to work as a roadie on her concert tour.
Michele Ferrari
Nicknamed Dr. Evil, the controversial Italian has been Armstrong's trainer since 1995. During the 2004 season, the two followed their usual program: one week together each month, and together the entire month before the Tour.
On October 1, 2004, an Italian court convicted Ferrari of two doping-related offenses, sporting fraud and the unlawful distribution of medicines. Later that day, Armstrong officially ended his nine-year relationship with Ferrari. Photo by Nico Casamassima/AFP/Getty Images
The Latest: There are rumors that Ferrari might not have completely quit working with his favorite client. A Girona hotel keeper, Francisco Troyano, told me that Ferrari had stayed in his establishment for a week in mid-March, just after Armstrong returned to Girona after abandoning the Paris-Nice stage race. But Ferrari's presence, it must be said, proves nothing. As Troyano put it, "Perhaps Ferrari likes vacationing in Girona."
Chris Carmichael
Advising Armstrong since 1990, Carmichael is founder and co-owner (with Armstrong) of Carmichael Training Systems, a personal-coaching company built on a system of analyzing training data sent over the Internet (the method by which he coaches Armstrong). He also works as a commentator on the Outdoor Life Network, a team sponsor.
Bill Stapleton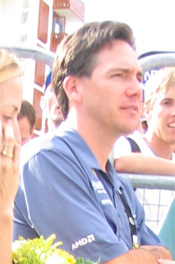 The consummate behind-the-scenes player, Stapleton is part-owner of Tailwind Sports (along with Bruyneel and Armstrong), the company which manages the Discovery Channel team. He defends Armstrong in the courts—and isn't shy about attacking, either. A tank of live piranhas decorates his Austin office.
The Latest: Stapleton's main job at the moment is overseeing Armstrong's lawsuits—which, at last count, involved 10 attorneys in three countries.
Floyd Landis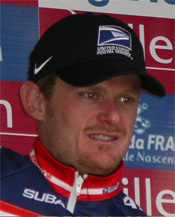 The unconventional Mennonite whose Biblical toughness and honesty made him invaluable—and occasionally infuriating—to Armstrong. Landis left Postal at the end of 2004 to join Phonak, a Swiss team. Photo by Daniel Coyle
The Latest: Relations between the former friends turned acrimonious at this year's Tour de Georgia when Armstrong pointed vehemently to Landis as he crossed the line ahead of him, his message clear: Traitor.
"There are no unwritten rules about a celebration at the finish line," Landis told VeloNews afterward. "But it's up to fans to decide on a person's character based on their reaction [to] beating someone."

The Postal team—now the Discovery Team—functions as an eight-headed, sixteen-legged version of Armstrong, designed to set the pace and protect its leader. They work according to a plan: the Eastern Bloc tough guys (Viatcheslav Ekimov, Pavel Padrnos) lead on the flats, Spanish climbers (Jose Azevedo, Chechu Rubiera, Triki Beltran) take over in the high mountains, and all–around thoroughbreds like George Hincapie and Benjamin Noval fill in the gaps.
The Latest: The team suffered a significant blow in late April, when Russian stalwart (and Armstrong favorite) Viatcheslav Ekimov broke his sternum and a in a training-ride crash. He'll miss the Tour.


THE ADVERSARIES
Trolls, bastards, chumps, Armstrong calls them in moments of anger; in calmer times, they're his worthy rivals. Here are the names Big Tex whispers to himself during training rides.
THE ENIGMA
The genial East German is considered by many (including Armstrong) to be the most naturally gifted rider in the world. Ullrich had finished second five times in the Tour de France, and promised it wouldn't happen again. It didn't. Photo by Daniel Coyle
The Latest: Ullrich's form has been solid so far in 2005, and, more important, he's stayed skinny. His personal life, however, hasn't gone as smoothly. In May, he split with Gaby Weis, his longtime partner and mother of his one-year-old daughter, Sarah Marie.
THE HARD BOY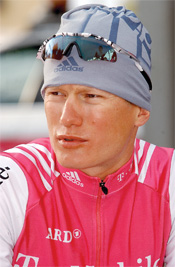 Ullrich's wingman made it out of bleakest Kazakhstan, but never made it to the start of the 2004 Tour due to a savage crash. Photo by Phil O'Connor
The Latest: Vino's back, winning the legendary Liege-Bastogne-Liege race in April in typical aggressive style. He then retreated to the steppes of Kazakhstan for a month of solitary training.
THE AMBUSH ARTIST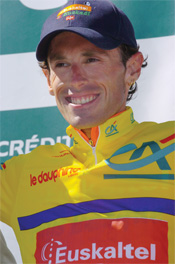 The Basque who came back from a horrific car crash to become the best pure climber in the world. Photo by Phil O'Connor
The Latest: Mayo, who rides for Euskaltel-Euskadi, has laid low for much of 2005, racing only occasionally. He's trying to avoid peaking too early, which scuttled his 2004 Tour.
THE NICE GUY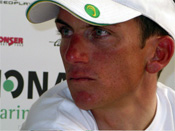 Armstrong's ex-teammate and upstairs neighbor in Girona. "Somewhere deep inside he's got that edge, that urge to kill," says a former Postal rider. "But Tyler buries it very well." Photo by Daniel Coyle
The Latest: In September of 2004, Hamilton tested positive for blood-doping and, a few months later, was banned from the sport for two years. He's appealing—his case is due to be heard in late June. See here for more details.
THE CRUSADER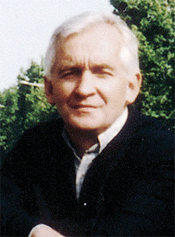 The Irish journalist worked for three years on his book, LA Confidentiel: Les Secrets de Lance Armstrong with French journalist Pierre Ballester. Walsh, three-time winner of Britain's Sportswriter of the Year award, has been writing about doping since 1996. Photo by Philippe Ledru/Deadline/Polaris Images
The Latest: Walsh's crusade suffered a significant setback in November 2004 when a London judge restricted the Sunday Times's line of defense in Armstrong's libel suit, ruling that the newspaper's lawyers could not introduce evidence about cycling's alleged doping culture, effectively preventing them from calling Armstrong's ex-teammates or any of Walsh's sources as witnesses. The case is scheduled for November 2005.
THE EX-ASSISTANT
Working as Armstrong's mechanic and personal assistant, Anderson was close enough to the family to be nicknamed H-2, for Husband Number Two. In Girona, Anderson lived with his wife and young son in an adjoining apartment to Armstrong's.
In the fall of 2004, Anderson and Armstrong had a falling-out—one that Anderson attributed in part to what he said was his accidental discovery of steroids in Armstrong's Girona bathroom. Armstrong denies that the incident occurred and alleges that Anderson is extorting him. You can read their court filings here and here.
The Latest: During spring, the lawyers for the two parties were talking, and there were rumors of a settlement.
THE BASTARDO
The Italian rider testified against Ferrari at the doctor's doping trial. When Armstrong called him a liar in print, Simeoni sued the Texan for libel. During the 2004 Tour, Armstrong personally ended Simeoni's chances for a stage win by chasing his rival down, a move many deemed unworthy of the yellow jersey holder—and which overeager Italian police deemed worthy of investigation on the grounds that Armstrong may have intimidated a witness.
The Latest: Italian authorities, surprisingly, seem to have come to their senses; they interviewed several riders, but the case seems likely to go nowhere.